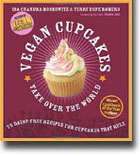 The hosts of the vegan cooking show The Post Punk Kitchen are back with a vengeance and this time, dessert. A companion volume to Vegan with a Vengeance, Vegan Cupcakes Take Over the World: 75 Dairy-Free Recipes for Cupcakes that Rule is a sweet and sassy guide to baking everyone's favorite treat without using any animal products.
This unique cookbook contains over 50 recipes for cupcakes and frostings, some innovative, some classics, with beautiful full color photographs. Isa and Terry offer delicious, cheap, dairy-free, egg-free and vegan-friendly recipes like Classic Vanilla Cupcakes (with chocolate frosting), Crimson Velveteen Cupcakes (red velvet with creamy white frosting), Linzer Torte Cupcakes (hazelnut with raspberry and chocolate ganache), Chai Latte Cupcakes (with powdered sugar) and Banana Split Cupcakes (banana-chocolate chip-pineapple with fluffy frosting).
Included also are gluten-free recipes, decorating tips, baking guidelines, vegan shopping advice, and Isa's true cupcake anecdotes from the trenches. When Vegan Cupcakes Take Over the World, no dessert lover can resist.
Not only does this book make baking a lot more economical and bring back those childhood memories, but these things are really frickin good. In the mood for fruity cupcakes? No problem. Craving rich chocolate buttercream? Simple. And delicious. And awesome. For all you closet vegans living in the heart of the south (and I'm sure you're out there), bake some of these cupcakes for the most die-hard fans of banana fosters and it will truly rock their world.
Authors: Isa Chandra Moskowitz, Terry Hope Romero
Year of Release: 2006