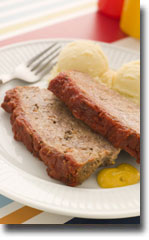 The classic meatloaf has European origins; meatloaf of minced meat was mentioned in the famous Roman cookery collection Apicius as early as the 5th century. Meatloaf is a traditional German, Scandinavian and Belgian dish, and it is a cousin to the Dutch meatball. Vegetarian and vegan versions vary ingredients and taste. This recipe uses lentils and wheat to achieve a meaty texture and flavor.

Servings 8: calories 200 per serving.
Ingredients:

LOAF
1/2 cup brown or green lentils
1 cup vegetable stock
1/3 cup water
1 dried bay leaf
3/4 cup bulgur (toasted cracked wheat) (gluten-free version, use certified gf steel cut oats)
1 cup water, boiled
1/4 cup natural ketchup
1 cup rolled or quick oats (gluten-free)
3 tablespoons tamari (wheat/gluten-free version)
2 tablespoons nutritional yeast
2 tablespoons ground white chia (or flax meal)
2 tablespoons vegan Worcestershire sauce
2 tablespoons tahini or sunflower seed butter
2 teaspoons blackstrap molasses
1/4 teaspoon dried thyme
1/4 – 1/2 teaspoon dried oregano
1 teaspoon dried basil
1/8 teaspoon ground fennel
Freshly ground black pepper to taste
TOPPING
3 – 4 tablespoon natural ketchup
1 teaspoon vegan Worcestershire sauce or 2 tsp vegan bbq sauce
Directions:
Combine the lentils, vegetable stock, 1/3 cup of water, and bay leaf in a saucepan. Bring to a boil, then lower heat to medium-low, cover, and cook for 25 to 30 minutes, until just about tender. Once done, add the bulgur and boiling water, cover, and cook on medium-low heat for another 8 to 9 minutes.
Meanwhile, preheat the oven to 375°F. Lightly oil an oven-proof glass loaf pan and line the bottom of the pan with a strip of parchment paper to cover (place it in to protrude along the short ends of the pan; this helps for easier removal of the veggie loaf from the pan). Combine the topping ingredients in a small bowl.
Once the bulgur is cooked, remove the bay leaf and add all the remaining ingredients (except topping). Stir very well. Transfer the mixture to prepared pan and pack it in. Spread the topping mixture over the top.
Cover the dish with aluminum foil and bake for 25 to 28 minutes. Remove the foil and bake for another 7 to 8 minutes. Remove from the oven and let stand for 10 to 15 minutes or so, before cutting to slice and serve.