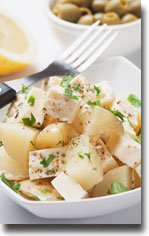 Potato salad is a dish made from boiled potatoes that comes in many versions in different regions of the world. It is a popular menu choice of cooks preparing food for a large number of people, because it is easily made in large quantities, it can be prepared in advance and refrigerated until needed, and requires inexpensive ingredients.
Number of servings: 6, 310 calories per serving.
Ingredients:
1 large (1 pound) white-flesh Japanese sweet potato, cubed
1/3 cup vegan mayonnaise
Juice of 1/2 lemon
1 teaspoon dijon mustard
1/2 teaspoon salt (or more to taste)
1/2 teaspoon dried dill
1/4 teaspoon garlic powder
1/4 teaspoon onion powder
1/4 teaspoon black pepper
3 stalks celery, minced
2 Tablespoons chives, minced
Directions:
Boil sweet potatoes in a pot of simmering water until fork-tender, about 15 minutes. Drain and set aside to cool.
In a medium bowl, whisk together the mayonnaise, lemon juice, dijon mustard, salt, dill, garlic powder, onion powder and black pepper.
Add the cooled potatoes to the bowl and mix well. Gently stir in the eggs, celery and chives.
Chill in the refrigerator until ready to serve. Keeps for up to 5 days.