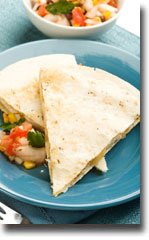 The origin of the quesadilla was colonial Mexico. The quesadilla as a food has changed and evolved over many years as people experimented with different variations of it. In central and southern regions of Mexico, a quesadilla is a flat circle of cooked corn masa, called a tortilla, warmed to soften it enough to be folded in half, and then filled.

Serves 2, 350 calories per serving.
Ingredients
6 flour tortillas, sliced in half (try spinach or tomato for color)

2/3 cup soy sausage (you can also use tofu, tempeh or beans)

1 cup vegan shredded cheese

2 portobello mushrooms, sliced thin

2 tsp vegan buttery spread

spray oil for pan


Directions:

Use the spray oil on your grilling pan.

Add the sausage and the mushrooms to the pan and cook .

Add a tsp of vegan buttery spread to the pan.

With a large spatula or bacon press, press  down so that you flatten the sausage into a flat pancake an the mushrooms are pressed as well.

Cook for about 2 minutes.


Remove your mushrooms and sausage from the pan and add the tortillas.

Cook for about 2 minutes.

Add

some cheese, then mushrooms, then sausage to the tortilla while it is still in the pan.

Cover the pan and cool until toasty (about 1-2 minutes).

Remove and serve with your favorite salad.

Add optional

1/2 cup cole slaw to make it crunchier.

T

o make this hotter, add 1/4 to 1 fresh habanero, stemmed, seeded, deveined, and finely chopped.