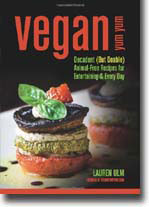 Vegan Yum Yum: Decadent (But Doable) Animal-Free Recipes for Entertaining and Everyday will put the yum into your meals with more than 85 mouthwatering vegan recipes.
When Lauren Ulm went vegan, she faced the typical onslaught of questions from acquaintances and more than the occasional wince from unsuspecting dinner guests. Vowing to prove that vegan food can be decadent and delicious—and not a bland stand-in for 'normal' food—she created a blog, veganyumyum.com.
What began as a hobby became an obsession, winning her not only legions of vegan and non-vegan foodie fans, but also the 2008 Best Veggie Blog Award from VegNews magazine.
Here in her debut cookbook, Lauren shows that vegan food is anything but dull, with her creative and quirky twists on everything from crowd-pleasing appetizers to indulgent desserts, from easy weekend breakfasts to speedy weeknight dinners, plus holiday- and company-worthy fare you can serve with pride.
Recipes include:
Blueberry Waffles with Lemon Icing
Strawberry Rhubarb Coffee Cake
Stuffed Banana Berry French Toast
Sweet Chili Lime Tofu
Tahini Lemon Rice and Beans
Corn Fritters
Eggplant and Basil Stuffed Tomatoes
Creamy Tomato Barley Risotto
Crispy Sesame Kale
Moroccan Spiced Root Vegetable Home Fries
Smoky Miso
Tofu Sandwiches
Cannellini Bean Soup with Pan-fried Croutons
Chinese Broccoli Wontons in Ginger-Soy Sauce
Chipotle Basil Corn Chowder
Baked Mac and Cheeze
Gnocchi with Thyme Vinaigrette
Lime Peanut Noodles with Seitan, Kale, and Carrots
With most ingredients both readily available and budget-friendly, Vegan Yum Yum shows anyone how to go gourmet the vegan way.
Author: Lauren Ulm
Year of Release: 2009