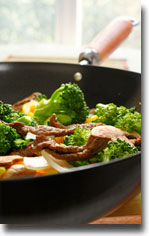 A quick and easy dish to prepare, this stir-fry is packed with veggies. Try adding bean sprouts, bamboo shoots, snap peas, or any of your favorite vegetables. Serve it with white or brown rice, or noodles.
Serves four, 220 calories per portion.
Ingredients:
1 pack of firm tofu or vegan meat
2 cloves minced garlic
1tbsp minced ginger
1 head broccoli
2 carrots cut into cubes
2 sliced shiitake mushrooms
1/2 red pepper cut into sticks
1tbsp olive oil
1tbsp rice vinegar
1tbsp hoisin sauce
Asian rice noodles to serve
Directions:
Heat up the sesame oil in a wok and stir-fry tofu or vegan meat until browned.
Add the carrots and peppers and cook for 3 mins.
Stir in the mushroom, ginger, garlic, vinegar and hoisin.
Simmer for a further 3 mins.
Serve with Asian rice noodles.