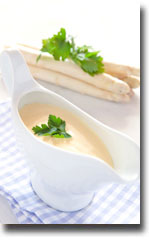 Magic happens again when whole foods come together to create this ultra rich, ultra creamy white cheese sauce without the dairy. Because of ingredients like cashew cream and nutritional yeast, I can still enjoy that creamy taste without milk, cheese, or butter. Thanks to some awesome vegan ingredients, it is possible to mimic that rich, dairy taste of creamy sauces. Here are six ingredients that star in vegan creamy sauce recipes. With these tricks, you can cook any type of sauce.

Number of servings: 5, 50 calories per serving.
Ingredients:
1 cup chopped potato
1/2 cup onion chopped
1 Tb. tahini
1/2 cup cashews
1/2 cup nutritional yeast
1 tsp. salt
1/2 cup water [more for boiling potato and onion]
Directions:
Cover potato and onion with water and boil until softened.
Drain water off of potato and onion and discard.
Pour all ingredients in a blender.
Blend until creamy.