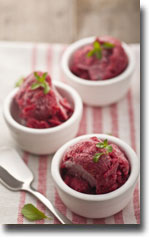 Wild Blueberries are one of three berries native to North America — what are the others? Like Wild Blueberries, Concord grapes and cranberries have grown naturally for thousands of years. Wild berries are often harvested the traditional way, with hand-held berry rakes that have been used for generations. For the ultimate in freshness, the berries should be picked, cleaned and either used or frozen to preserve their flavor, quality and antioxidant goodness.

Serves 4, 320 calories per serving.
Ingredients:
1 cups frozen wild blueberries
1/2 cup frozen wild blackberries
1/2 cup lemon juice
1/2 teas Stevia
1 banana, ripe
Directions:
Slightly thaw the frozen fruit so that it easily blends.
Add all ingredients to a high speed/high quality blender like a Vitamix.
Blend until smooth but do not overblend. Keep mixture as thick and frosty as possible.
Pour into a chilled metal container.
Chill until firm, then serve.