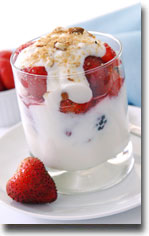 It seems like only yesterday that the frozen yogurt craze swept the nation, cluing in the general public to what we've known for years: creamy, tart, refreshing yogurt makes a great dessert. From yogurt banana splits to yogurt-pomegranate pops, these ten recipes could give the local fro-yo joint a run for its money.
Serves one, 280 calories per portion.
Ingredients:
1/2 cup no-fat Greek yogurt
handful of mixed berries (strawberries, raspberries, blueberries)
2 diced almonds
1 teaspoon brewers yeast
natural honey
Directions:
Place the yogurt, washed berries, almonds in a bowl.
Drizzle the honey on top.
Sprinkle brewers yeast and loose almonds on top.