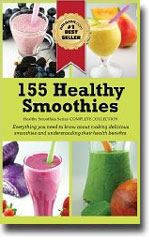 In 155 Healthy Smoothies: Everything You Need To Know About Making Delicious Smoothies And Understanding Their Health Benefits, Pawel Malczewski provides the ultimate compendium of healthy smoothies and more, you'll find yourself reaching for this book more often than any other recipe book in your kitchen.
The title "smoothie" simply doesn't seem like enough to go with some of these amazing recipes. More mindful of cold soups or chilled dessert recipes, some of these will be a meal in one.
Offering you the kind of nutrition that will add stamina and sparkle to your attitude and your health, the recipes are clear and easy to follow as you create the smoothies.
If you only buy one book of smoothies, this is the one that you need. Offering green smoothies, vegetarian and vegan, as well as fruity smooth desserts, your weight will fall and your energy will rise when you take advantage of the healthy smoothie recipes found in this all-encompassing book.
What I love about this book is that it looks like a complete smoothie guide. It has plenty of great smoothie tips which explain a lot doubts I had about the green smoothies or the level of healthiness fruit smoothies. Smoothie recipes only contain whole ingredients and there are no additives or sweeteners in any of the recipes, and really there is no need for those. The fruits or in the worst scenario dried fruits really sweeten the smoothie enough. The contraindications and warnings section is also useful.
Author: Pawel Malczewski
Year of Release: 2012