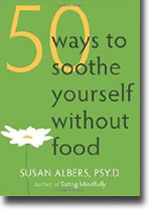 Food has the power to temporarily alleviate stress and sadness, enhance joy, and bring us comfort when we need it most. It's no wonder experts estimate that 75 percent of overeating is triggered by our emotions, not physical hunger. The good news is you can instead soothe yourself through dozens of mindful activities that are healthy for both body and mind.
Albers's of creative, accessible, self-soothing tips will undoubtedly help anyone who has struggled with dieting, food, or body image. Beyond that, her exercises in mindfulness, deep breathing, and journaling are top-notch tools for finding balance in life overall. If you struggle with binge eating or compulsive overeating, this is one of the few books I've read on the subject that is more than just platitudes and actually helps you implement a plan of action.
Albers, author of Eating Mindfully, now offers 50 Ways to Soothe Yourself Without Food, a collection of mindfulness skills and practices for relaxing the body in times of stress and ending your dependence on eating as a means of coping with difficult emotions. You'll not only discover easy ways to soothe urges to overeat, you'll also learn how to differentiate emotion-driven hunger from healthy hunger. Reach for this book instead of the refrigerator next time you feel the urge to snack-these alternatives are just as satisfying!
Albers, is a licensed clinical psychologist at the Cleveland Clinic specializing in eating issues, weight loss, body image concerns, and mindfulness. She graduated from the University of Denver, completed an internship at the University of Notre Dame and was a post-doctoral fellow at Stanford University.
Author: Susan Albers
Year of Release: 2009