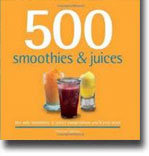 500 Smoothies & Juices: The Only Smoothie & Juice Compendium You'll Ever Need is a smoothie and juice compendium is packed with 500 refreshing recipes, all of them clear and easy to follow. Filled with tips on how to select the right ingredients for your smoothies and juices and then how to make them taste absolutely perfect, this is a book of smoothies and juices you need.
If you're new to juicing and blending this book is great, it's helped me begin my juicing journey with lots of easy-to-make recipes to choose from, it provides many varieties of basic fruit juices & smoothies. However, many of the recipes are high in calories & lack in-depth nutrition info, okay if you're not dieting. This book contains quick and easy recipes for making smoothies and juices. The best part is that it contains recipes for easily obtainable ingredients.
Christine Watson trained at the internationally renowned Leiths School of Food and Wine in London. She writes extensively about food and tests recipes for magazines, newspapers, and books, and is a food stylist for commercials, television programs, and the occasional film.
Author: Christine Watson
Year of Release: 2008