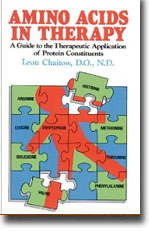 This comprehensive guide for health practitioners covers all aspects of amino acid therapy and lists conditions which are particularly responsive to such treatment. Includes information on:
Amino acid profiles
Why individual requirements differ
Amino acids and protein
Amino acids and the body cycles
Disorders of amino acid metabolism
Conditions suitable for amino acid therapy
This excellent book is a valuable guide to the therapeutic use of amino acids. It explains how amino acids function as the building blocks of protein, and lists the metabolic paths of the amino acids, the qualities of the individual amino acids and the disease states in which amino therapy can be helpful.
The author discusses the essential aminos (that the body needs to get from food) and the non-essential ones (that are made in the body), and how these relate and interact with one another. The co-factors (vitamins, minerals and trace elements) of the individual amino acids are covered in detail.
The author provides valuable information on the therapeutic application of amino acid therapy, including a summary of therapeutic dosages and cautions. Some of the uses include treatment of depression (DL-Phenylalanine, L-Tyrosine), insomnia (Tryptophan), cold sores (L-Lycine), detoxification (L-Cysteine, Glutathione) and wound healing (L-Arginine and L-Glutamine).
An appendix provides the amino acid content of certain common foods (besides meat, other excellent sources are eggs, milk, yoghurt and chocolate). The book also provides the contact details of various organisations and contains a thorough index.
Author: Leon Chaitow
Year of Release: 1989