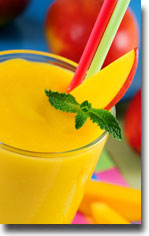 Mangoes may very well be the king of all fruits. They fight cancer, alkalize the body, aid in weight loss, regulate diabetes, help digestion, clean your skin, and make the perfect snack. Mango has high level of vitamin C, pectin and fiber that help to lower serum cholesterol levels. Fresh mango is a rich source of potassium, which is an important component of cell and body fluids that helps to control heart rate and blood pressure.
Number of servings: 1, 200 calories per serving.
Ingredients:
1/2 cup blueberries
1/2 cup strawberries
1/2 cup diced mango
1 cup water plus extra for desired consistency
Directions:
Blend all ingredients in blender, adding more water as needed for desired consistency.
Great for the days following a fast.