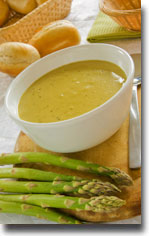 This delicate and creamy asparagus soup tastes wonderfully luxurious, yet it's made without heavy cream — just vegetables and broth. The fleshy green spears of asparagus are both succulent and tender and have been considered a delicacy since ancient times. This highly prized vegetable arrives with the coming of spring, when its shoots break through the soil and reach their 6-8 inch harvest length.

Servings 6: calories 270 per serving.
Ingredients
2 pounds green asparagus
1 large onion, chopped
5 cups vegetable broth
¼ teaspoon fresh lemon juice, or to taste
Bragg Liquid Aminos to taste
Pepper to taste
Instructions
Cut asparagus into ½-inch pieces.
In a large pot, heat margarine over medium-low heat, and cook the onion for a few minutes, until softened.
Add asparagus pieces and salt and pepper to taste, then cook, stirring, 5 minutes. Add broth and simmer, covered, until asparagus is very tender, 15 to 20 minutes.
Season with lemon juice, and Bragg Liquid Aminos and pepper.
Notes
This soup keeps in the fridge for up to 2 days. To freeze, let soup cool completely before freezing it in an air-tight container. Slowly reheat soup on stove-top (or microwave) before serving.