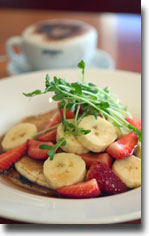 I recently picked up several pounds of strawberries from a local farm, and I'm chipping away at my long list of things to make.  At the top of the list was pancakes, but not just any strawberry pancakes — Strawberry Banana Pancakes.
Try a stack of strawberry banana pancakes topped with fresh slices of banana, crowned with cool strawberries, and banana slices.
Number of servings: 6 to 8 pancakes, 105 calories each.
Ingredients:
1 cup flour (whichever kind you prefer)
1 tablespoon sugar (organic cane sugar)
1/2 cup fresh strawberries (cut in half)
1 banana (sliced)
handful sprouts of your choosing
2 tablespoons baking powder
1/8 teaspoon salt
1 cup soymilk
2 tablespoons vegetable oil
Directions:
Set out all your ingredients.
Set a stove element with a pan to medium heat.
Combine the 4 dry ingredients (flour, sugar, baking powder, salt) in a bowl.
Add the soy milk and vegetable oil to your mixture.
Mix until smooth.
Now the pan should be ready for your batter, so spoon one pancakes' worth of the mixture into the pan.
Flip [carefully] when you see bubbles in the middle of the pancake, or if the edges are looking stiffened.
Repeat until the batter is gone.
Serve with strawberries, banana, and sprouts.