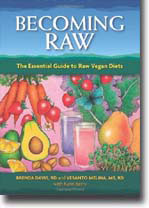 This book contains a wealth of information on the raw food lifestyle. Nutrition experts Brenda Davis and Vesanto Melina once again provide the essential information needed to safely embrace a new dietary lifestyle.
As they did for vegetarians and vegans in Becoming Vegetarian and Becoming Vegan, they present the first authoritative look at the science behind raw foods. And both old converts to raw foods and new recruits alike will be fascinated with food historian Rynn Berry's presentation of the first narrative history of the rawfoods movement in the United States.
More people are jumping onto the raw foods bandwagon either to lose weight, fight chronic health problems, or simply to benefit from the high level of nutrients found in uncooked or sprouted foods. Readers will find science-based answers to tough questions about raw foods and raw diets, easy-to-follow nutritional guidelines, and practical information on how to construct a raw diet that meets recommended nutrient intakes simply and easily.
A section of over forty-five recipes provides dishes for any time of day and every occasion. Nutritional analyses are given for each recipe. Also included is a section on what foods and equipment are needed to get started and what raw food preparation basics are good to master. This book is a major contribution to the raw foods movement.
Becoming Raw: The Essential Guide to Raw Vegan Diets is a complete guide to the raw diet- a type of diet/lifestyle that has a strong following and continues to gain more and more adherents. This book covers all of the essentials of the raw diet and more. The reader ultimately becomes much better informed on the subject and completes the book loaded with knowledge on everything related to eating raw.
Becoming Raw is a complete guide to the raw diet and, in many ways, it is like reading an educational textbook on raw food nutrition. I am no expert on the subject of nutrition, so I knew there would be much to learn when I opened this book for the first time. My expectations were correct, for Becoming Raw is loaded with information on nutrition and eating raw foods.
It teaches you about the building blocks of food, like carbohydrates, protein, fat, vitamins, and minerals. It offers recipes, nutritional tables, and other reference materials. It educates the reader on the many benefits that raw fruits, vegetables, nuts, seeds, and other foods bring to the body. It covers a wide range of topics and serves as a very informative book on this subject.
Authors: Brenda Davis, Vesanto Melina and Rynn Berry
Year of Release: 2010