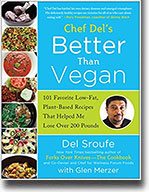 The science is very clear. A whole-foods, plant-based diet is the healthiest possible way to eat—but veganism itself doesn't mean health, as Chef Del Sroufe, author of the New York Timesbestseller Forks Over Knives—The Cookbook, knows better than anyone.
Sroufe managed to reach 475 pounds while eating a vegan diet rich in pastries, peanut butter, and potato chips. After converting to a vegan diet with minimal processed foods, sugars and added oils, he lost more than 240 pounds without giving up taste.
In Better than Vegan, Sroufe relates with humor and humility his remarkable journey of how he lost hundreds of pounds on a healthy vegan diet and then shares the kinds of meals that restored his body. Proving that the healthiest diet can also be the most delicious, Sroufe offers more than 100 recipes in Better than Vegan, such as:
Portobello Wraps with Spicy Asian Slaw
Three Sisters Enchiladas
Lemon Berry Sorbet
Creole Corn Chowder
Written with Food Over Medicine and Mad Cowboy coauthor Glen Merzer and featuring photographs from Robert Metzger, Better Than Vegan offers healthy and professional cooking tips with nutritional advice to help you achieve the optimal plant-based diet.
I have shelves full of vegan cookbooks but there are only a few that get to this level for me and it is mostly because of Chef Del's very clever use of pureed cauliflower to make sauces that turn into mayonnaise (the best I have tried yet), hollandaise, and alfredo sauce. Crazy… I never thought of using cauliflower- no fat super low calories. Just awesome. If you are following a low fat no fat Esselstyn plant based diet for heart health, etc. this will be a great edition to your library for go-to recipes. And if you are just looking for some creative, easy, well designed additions to your repertoire, this is your cookbook.
Author: Del Sroufe
Year of Release: 2013