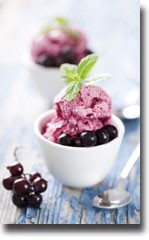 A popular berry during summertime, deep purple black currants (sometimes called blackcurrants) offer a wealth of nutrients not found anywhere else. The plump little black currant can be puckeringly sour however, so it's one fruit that usually requires some type of added sweetness, such as honey or stevia.
Serves 4, 300 calories per serving.
Ingredients:
4 cups black currant, seeds removed
1/4 cup lime juice
1/3 teas Stevia
Directions:
Add all ingredients to a high speed/high quality blender like a Vitamix.
Blend until smooth but do not overblend. Keep mixture as thick and frosty as possible.
Pour into a chilled metal container.
Chill until firm, then serve.