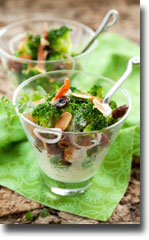 Broccoli is a cabbage family vegetable grown for its nutritious flower heads. Its green or purple florets have been known for several noteworthy, unique phyto-nutrients that have been found to have disease preventing and health promoting properties. Broccoli is an excellent source of vitamin K, vitamin C, chromium, and folate. It is a very good source of dietary fiber, pantothenic acid, vitamin B6, vitamin E, manganese, phosphorus, choline, vitamin B1, vitamin A (in the form of carotenoids), potassium, and copper.
Makes 4 servings, 190 calories each
Ingredients:
5 cups small broccoli florets
1 tablespoon brown rice vinegar
1/2 cup chopped mushrooms
1/3 cup semi-chopped red onion
1/4 teas Stevia
1/2 cup poppy seeds
Directions:
Bring a large saucepan of salted water to a boil. Add the broccoli and blanch until bright green and slightly softened, about 3 minutes. Drain well, run under cold water to stop the cooking, and drain again.
In a mixing bowl, combine the vinegar, onion, Stevia and mushrooms. Add the broccoli and toss the coat with the dressing. Refrigerate for 1 hour.
Serve immediately.