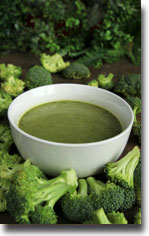 Broccoli is an excellent source of vitamin K, vitamin C, chromium, and folate. It is a very good source of dietary fiber, pantothenic acid, vitamin B6, vitamin E, manganese, phosphorus, choline, vitamin B1, vitamin A (in the form of carotenoids), potassium, and copper.
Number of servings: 6, 190 calories per serving.
Ingredients:
4 bunches broccoli
1 onion, chopped
4 cups vegetable stock
Braggs Aminos and pepper to taste
Directions:
Remove and discard tough lower stalk of each broccoli. Peel remaining stalk.
Finely chop stalk and florets (you should have about 4 cups). Set aside.
Heat water in a medium heavy pot over medium heat. Add onion and sweat until soft and translucent, about 10 minutes.
Add stock and bring to a boil.
Reduce heat and simmer until potato is almost tender, about 12 minutes.
Stir in chopped florets. Simmer until potato and broccoli are very tender, about 10 minutes.
Remove soup from heat and purée in a blender until smooth.
Season to taste with salt and pepper.