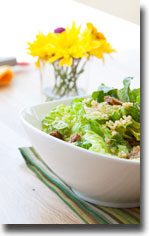 The Caesar salad's creation is attributed to restaurateur Caesar Cardini, an Italian immigrant who operated restaurants in Mexico and the United States in the 1920s. Cardini was living in San Diego but also working in Tijuana where he avoided the restrictions of Prohibition. He invented the dish when a Fourth of July 1924 rush depleted the kitchen's supplies. Cardini made do with what he had, adding the dramatic flair of the table-side tossing by the chef.
Serves one, 350 calories.
4 tbsp raw cashews
2 tbsp pine nuts
3 tbsp lemon juice
1 tbsp olive oil
pinch garlic powder
pinch salt
dash vegan Worcestershire sauce or a dash of vegan oyster sauce
1 tsp nutritional yeast, optional
1 tsp white miso
dash agave
4 tbsp water
Grind the cashews and pine nuts in a coffee/spice grinder.  Add the ground cashews and pine nuts to a bowl along with all the other ingredients and stir to combine.
To assemble a salad, mix the dressing into salad leaves of choice (you can use Romaine lettuce, which is the traditional option, or mixed leaves if you prefer).  Top with grated vegan parmesan (optional), croutons, and vegan chicken if desired.  Or if you prefer to stray from the traditional route, add any other topping you like!  I imagine it would pair well with chickpeas, avocado.