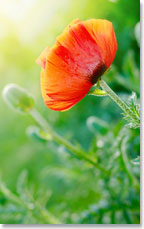 Eschscholzia californica, a dicot, is an annual or perennial herb that is native to California and is also found outside of California, but is confined to western North America. Root, leaves and seeds. Bitter to the taste with subtle euphoric properties, the entire plant of the Californian poppy is harvested in maturity. It's dried and used for medicinal purposes as diffusion, tincture and powder. Gentle in effect, the major health properties of the California poppy are sedative, analgesic and antispasmodic in action.
As a member of the Papaver somniferum species, this chemically complex plant is considered a sub-opiate. It produces a milder effect than its cousin the red poppy which is the source of opium. Its distinction is found in its ability to normalize psychological functions by influencing the neurotransmitters without depressing the central nervous system.
California poppy (Eschscholzia californica) is a sedative and sleep-promoting herb used in a variety of herbal remedies sold in the United States for relaxation and easing mild anxiety. Because of its mild sedative and analgesic properties, it's often given to children.
Clinical studies with California poppy have clearly demonstrated the plant's sedative and anti-anxiety properties, showing it can improve both sleep latency and quality.
In a large 264-participant 3-month, double-blind, placebo-controlled study, researchers noted the anti-anxiety benefits of a combination therapy containing the mineral magnesium, and the herbs hawthorn (Crataegus laevigata), and California poppy (Eschscholzia Californica).
The study, done at the Innothera Laboratories in France, followed 264 patients suffering from generalized anxiety disorder of mild-to-moderate intensity. The results indicated that the combination treatment was more effective than placebo with no significant side effects. This particular combination therapy is commonly used in France.