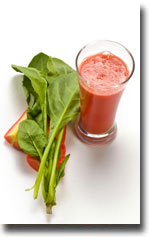 Ginger is more than a seasoning – its medicinal properties have been valued and used throughout the ages. For thousands of years, Arabic, Indian, and Asian healers prized ginger as food and medicine. This tropical plant, in the same bo­tanical family as turmeric and cardamom, was effectively used to relieve nausea and vomiting caused by illness and seasickness.
Number of servings: 1, 110 calories per serving.
Ingredients:
Four carrots
1 cup fresh spinach
Thumb-sized chuck of ginger
Water as needed
Directions:
Place all ingredients in blender and add a small amount of water.
Add water in small amounts until desired consistency is reached.