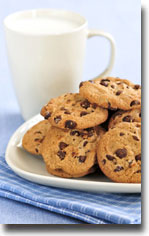 The creation of chocolate chip cookies was a complete accident. Ruth Wakefield was all out of baker's chocolate, so she used a semisweet chocolate bar instead. Wakefield worked as a dietitian at a tourist lodge in Whitman, Massachusetts called the Toll House Inn. One day while making cookies, she realized she was out of an ingredient for the recipe she was using. She had run out of baker's chocolate, so she substituted it with a semisweet chocolate bar from Nestle. However, unlike the baker's chocolate, the chopped up chocolate bar did not melt and mix into the batter like Ruth thought it would. The small pieces of chocolate only softened and the chocolate chip cookie was born.
Number of servings: 14 cookies, 210 calories per serving.
Ingredients:
7 tbsp Earth Balance vegan shortening
1 tbsp extra virgin olive oil
1/2 cup packed brown sugar
1/4 cup organic cane sugar
1 flax egg: (1 tbsp ground flaxed with 3 tbsp water)
1 tsp vanilla extract
1/2 tsp baking soda
1/2 tsp kosher salt
1/2 cup whole wheat pastry flour
3/4 cup all-purpose flour
1/4 tsp cinnamon
1/2 cup dark chocolate chips
Directions:
Preheat oven to 350 and line a baking sheet with parchment paper.
In a small bowl, mix together the flax egg and set aside.
With an electric mixer or in a stand mixer, beat the Earth Balance until fluffy.
Add the brown sugar and cane sugar and beat for 1-2 minutes until creamy.
Beat in the flax egg.
Beat in the remaining ingredients and fold in the chocolate chips.
Shape balls of dough and place on the baking sheet.
Bake for 10-12 minutes.
Allow to cool for 5 mins. on the baking sheet and then transfer to a cooling rack for another 10 minutes.