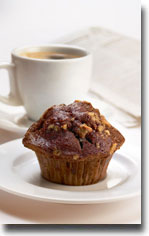 This recipe starts with one seriously healthy ingredient: Beet puree! An entire cup of beet puree – equals out to about two whole beets – goes into a dozen, naturally-sweetened, whole grain muffins that also happen to be vegan. I didn't even know such deliciousness was possible without butter, sugar and milk. Despite their exotic appearance, these muffins are actually super simple once you get your beets pureed, requiring just one bowl and 30 minutes to prepare.
Serves 12, 275 calories each
Ingredients
2 flax eggs *
1 cup beet puree (or sub butternut squash, applesauce, or another hearty fruit puree)
1/4 cup maple syrup or agave nectar (sub honey if not vegan)
1/3 cup brown sugar
1/4 tsp sea salt
1.5 tsp baking soda
1/4 cup melted coconut oil or vegan butter (such as Earth Balance)
1/4 cup unsweetened almond milk
1/2 cup unsweetened cocoa powder
1 1/3 cups whole wheat pastry flour (or unbleached all purpose)
1/3 cup dairy-free semisweet chocolate chips + more for topping
Instructions
Preheat oven to 375 degrees F and line 12 muffins with paper liners, or lightly grease.
Prepare flax eggs in a large mixing bowl and let rest for 5 minutes.
Add beet puree, melted oil, maple syrup or agave, brown sugar, baking soda, salt and whisk for 45 seconds.
Stir in the almond milk and whisk once more.
Add cocoa powder and flours and stir with a spoon or spatula until just combined, being careful not to over-mix. If the batter appears too thick, add a touch more almond milk. But it should be quite thick and NOT pourable – rather, scoopable.
Lastly, stir in chocolate chips. Then divide batter evenly between muffin tins (should be enough for between 11-12) and sprinkle with a few more chocolate chips (optional but recommended).
Bake for 17-22 minutes or until a toothpick inserted into the center comes out clean. Let cool for a few minutes in the pan, remove from tins and let cool on a cooling rack. Will keep covered for several days. Freezer for longer-term storage.
* How to make a flax egg
Ingredients
1 Tbsp (7 g) flaxseed meal (ground raw flaxseed)
2 1/2 Tbsp (37 ml) water
Instructions
Add flaxseed meal and water to a dish and stir. Let rest for 5 minutes to thicken. Add to recipes in place of 1 egg.
It's not an exact 1:1 substitution in every recipe because it doesn't bind and stiffen during baking quite like an egg does.