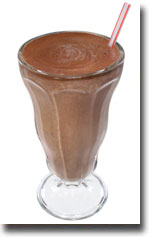 In 1895 Dr. John Harvey Kellogg (the creator of Kellogg's cereal) patented a process for creating peanut butter from raw peanuts. He marketed it as a healthy protein substitute for patients without teeth. In 1903, Dr. Ambrose Straub of St. Louis, Missouri, patented a peanut-butter-making machine. Today, peanut butter is being used to feed people in nations with little food.

Number of servings: 1, 350 calories per serving.
Ingredients:
2 scoops vanilla coconut ice cream
1 tbsp vegan chocolate fudge sauce
2 Tbsp peanut butter, chunky
1/4 cup soy milk
1 heaping scoop of your favorite vegan chocolate protein powder (i.e.

Sun Warrior brand)

1 1/2 Tbsp vegan chocolate spread (i.e.  Dark Choco Dream Fair-Trade Chocolate Spread by Natural Nectar)
Instructions:
Combine everything into your blender and blend.
Add more non-dairy milk if you want a thinner shake.
Optional: serve with coconut whipped cream on top.
Click here for the Coconut Whipped Cream recipe