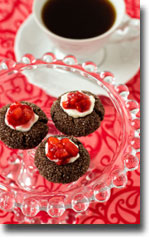 Hallongrotta is the name of a common Swedish cookie. The name actually means "raspberry cave" in Swedish. In the United States they are known as thumb print cookies. It is an easily baked molded cookie, traditionally flavored with vanilla. The depressions are usually filled with raspberry jam. However, thumbprint cookies can be made — and filled — with just about anything.
Number of servings: 24 cookies, 320 calories per serving.
Ingredients:
1 1/2 cups all purpose flour
1/2 cup unsweetened Dutch-process cocoa powder
1 cup almonds (ground into 1 1/2 cups meal)
2 teaspoons baking powder
1/4 teaspoon sea salt
1/3 cup cold-pressed vegetable oil
1/3 cup apple juice
1/3 cup maple syrup
1 teaspoon vanilla extract
fruit preserve of choice (raspberry, apricot, strawberry, etc)
1/3 cup raw cacao nibs or dark chocolate chips
Vegan Cream Cheese (i.e. Galaxy Brand)
Directions:
Preheat oven to 350 degrees.
Combine flour, almonds, baking powder, and salt in a mixing bowl; set aside.
In a separate bowl, mix oil, juice, syrup, and vanilla.
Add wet ingredients to dry and mix well, kneading a little.
Form dough into balls and flatten to make circles (you can also roll out the dough to about an inch think and use a decorative cookie cutter).
Place on lightly oiled cookie sheet.
Indent each cookie with your thumb.
Bake 15 minutes, until edges turn golden.
Remove cookies from oven and let cool.
Add about 1/2 teaspoon vegan cream cheese followed by 1/2 teaspoon preserves in the imprint.