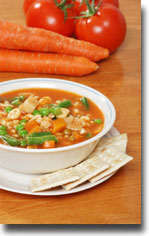 This hearty vegetable soup is a great meal for chilly fall and winter nights. I make this super-easy vegan vegetable soup about every other week during the winter. It's thick and hearty, almost like a stew. Served with warm whole grain bread it makes a filling meal. Use beans or green peas in place of edamame if preferred.

Number of servings: 10, 160 calories per serving.
Ingredients:
1/2 onion, chopped
3 stalks celery, chopped
2 cloves garlic, minced
4 cups vegetable broth
1 (15 ounce) can tomato sauce
4 carrots, peeled and cut into 1/4-inch rounds
1 cup corn
1/2 cup shelled edamame
1/2 cup greenbeans
2 leaves kale, roughly chopped
Braggs Amino to taste
1 teaspoon ground black pepper
Directions:
Heat water in a large pot over medium heat. Cook and stir onion and celery in hot oil until onion is softened and translucent, about 5 minutes.
Stir garlic into the onion mixture; cook and stir until fragrant, 2 to 3 minutes more.
Pour vegetable broth and tomato sauce into pot. Simmer for about 10 minutes.
Stir carrots and potatoes through the broth. Simmer until carrots are tender, 10 to 15 minutes more.
Drop corn, edamame, greenbeans, and kale into the soup. Continue to simmer until okra is tender, 5 to 10 minutes more. Season to taste.