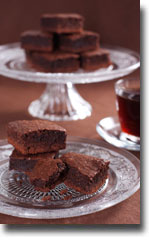 Try these delicious family-friendly brownies with a surprising twist. This fudgy chewy brownie is the perfect balance of rich chocolate flavor with warm cinnamon spice. When done correctly the texture here is divine: both fluffy and dense, and even better after sitting 24 hours. The cinnamon adds a nice dimension to the intense chocolate flavor–I don't know how they could be more delicious.

Serves 8, 260 calories per serving.
Ingredients:
2 1/2 ounces unsweetened chocolate, roughly chopped
1/2 cup (1 stick) vegan margarine, plus more for the baking dish
2/3 cup all-purpose flour
1 teaspoon ancho chile powder
1 teaspoon ground cinnamon
1/2 teaspoon baking powder
1/4 teaspoon fine sea salt
1 cup sugar
2 large eggs
1 teaspoon pure vanilla extract
Directions:
Preheat oven to 350°F.
Line an 8-inch square baking pan with enough foil so that the foil extends a few inches over 2 sides of the pan.
Grease the foil with margarine.
Put chocolate and margarine in a medium saucepan over low heat.
Cook, stirring frequently, until margarine and almost all of the chocolate has melted, about 4 minutes.
Turn off the heat and let the mixture cool for a few minutes (any remaining chunks of chocolate should melt).
In a small bowl, whisk together flour, chile powder, cinnamon, baking powder and salt.
Pour the chocolate mixture into a medium bowl and stir in sugar, eggs and vanilla.
Add flour mixture and stir just until smooth.
Pour into the prepared pan and bake just until the top of the brownies begins to look dried and a toothpick inserted into the center of the brownies comes out with moist crumbs but no raw batter sticking to it, 30 to 35 minutes.
Cool the brownies in the pan for 10 minutes and then use the foil on the sides to lift the brownies out and place on a rack to cool completely.
Peel off the foil and cut the brownies into 16 squares.