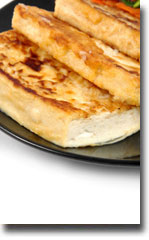 The tofu in this recipe is cooked like a steak – seasoned with salt, pepper and garlic cooked till crispy on the outside and hot in the middle. Tofu steaks are great with shiitakes and veggies is a quick vegetarian entree full of flavor and rich vegetables. The textures and flavors of the dish are wonderful, especially with fresh tofu from a local market. But the firm tofu you can find in the store works fine as well

Number of servings: 6, 320 calories per serving.
Ingredients:
16 ounces extra firm tofu
4 Tbsp tamari
3 Tbsp maple syrup
3 Tbsp orange juice
sprig of rosemary
Braggs Aminos and pepper to taste
water for saute pan
Directions:
Drain your tofu and press dry with a paper towel or tofu press.
Slice into thick steaks and again dry the edges and press dry.
Squeeze out as much water as you can without disturbing the shape of the tofu.
Mix up remaining ingredients to make the marinade and toss each of the tofu steaks in the liquid.
Lay them in a shallow wide pan.
Let tofu marinate for at least a few hours or overnight.
If you can, flip the tofu half-way through.
Remove rosemary sprig before cooking tofu.
Now you are ready to cook your tofu.
Add 2 teaspoons of safflower oil to a hot saute pan.
When the oil is very hot, add in the tofu.
After a minute, flip the steaks adding any leftover marinade mixture.
Continue cooking until all the liquid has cooked away or been absorbed and tofu has crispy dark edges (about 15 minutes).
Add drizzle of maple syrup.
Add a few dashes of salt and pepper to the surface of the tofu just before removing from pan.
Remove tofu from pan and while pan is still hot, add in the citrus slices.
Turn off heat and allow the orange wedges to sit in pan for 3 minutes.
Service while hot.