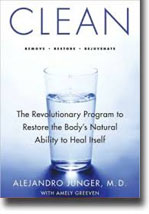 From Alejandro Junger, Eastern medicine specialist, cardiologist, and head of the Integrative Medicine program at Lenox Hill Hospital (as well as a doctor at New York City's renowned Eleven Eleven Wellness Center), comes the New York Times bestseller, Clean—a medically-proven program that teaches how to remove toxins, rejuvenate our bodies, and restore our natural health.Junger is board certified in internal medicine and cardiology, having trained and now practicing in New York City. In addition, after completing his medical training, Junger studied Eastern medicine in India. He was the medical director of WE Care Holistic Health Center in Palm Springs, a world-famous center for fasting, cleansing, and detoxification.
The basic premise of this book is that if you give your body a break from having to expend so much energy digesting food (and particularly food it was never meant to consume), it can finally get around to detoxing and healing.
The book advocates an elimination diet where you cannot eat the following foods:
Oranges, orange juice, grapefruit, strawberries, grapes, and bananas
Dairy and eggs, milk, cheese, cottage cheese, cream, yogurt, butter, ice cream, nondairy creamers
Wheat, corn, barley, spelt, kamut, rye, couscous, oats
Raw fish, pork, beef, veal, sausage, cold cuts, canned meats, hot dogs, shellfish
Soybean products (soy sauce, soybean oil in processed foods, tempeh, tofu, soy milk, soy yogurt)
Peanuts, peanut butter, pistachios, macadamia nuts,
corn, creamed vegetables, tomatoes, potatoes, eggplants, peppers
butter, margarine, shortening, processed oils, salad dressings, mayonnaise, spreads
alcohol, coffee, caffeinated beverages, soda pop, soft drinks
refined sugar, white or brown sugars, honey, maple syrup, high-fructose corn syrup, evaporated cane juice
chocolate, ketchup, relish, chutney, soy sauce, bbq sauce, teriyaki sauce, other similar condiments.
You have one smoothie or juice (made in your juicer or blender) for breakfast and one for dinner. You have an elimination diet meal for lunch. If you are hungry, you may have a small mid-morning snack and late afternoon snack. The book suggests you drink water if you think you are hungry and see if that does the trick. You are also to drink lots of distilled or filtered water throughout the day.
You must have a bowel movement every day and if you don't, he wants you to get a colonic (they are quite expensive) or take herbal laxatives or do an enema. Either way you must have a bowel movement.
Another big rule is that you must wait 12 hours between dinner and breakfast. There are a few other points, but you'll have to read the book for those.
Author: Alejandro Junger
Year of Release: 2009