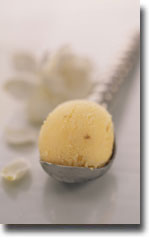 As one of the earliest frozen desserts, Sorbet represents one of the most important ice cream types in their long and varied history. Initially closely connected with the availability of ice and expensive storage technologies, sorbet slowly became one of the most popular frozen deserts of the Renaissance Europe and after that entire world.
Serves 4, 300 calories per serving.
Ingredients:
4 cups coconut milk
2 cups flaked unsweetened coconut
handful almonds
1/2 teas Stevia
Directions:
Add all ingredients to a high speed/high quality blender like a Vitamix.
Blend until smooth but do not overblend. Keep mixture as thick and frosty as possible.
Pour into a chilled metal container.
Chill until firm, then serve.