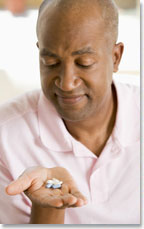 Research findings have demonstrated that medicating a single problem with one drug can lead to a series of additional problems caused by the nutrient-depleting effects. More often than not, this leads to more prescriptions, which create additional nutrient deficiencies. This scenario continues until the patient is on a host of nutrient-depleting medications.
Antibiotics, for instance, destroy helpful bacteria and deplete B vitamins needed for hundreds of biological processes, including proper nervous system functioning. When women taking antibiotics consequently develop an overgrowth of Candida, such as vaginal yeast infections, doctors prescribe additional medications to control the yeast. This commonly leads to immune system disturbance. It's easy to see how this situation leads to another array of pharmaceutical interventions. The sad thing is that most doctors don't know any alternatives to these problems. For example, supplementing with a "probiotic" will replenish the necessary flora. Acidophilus is an excellent adjunct to treatment for infection, and ginger and aloe vera also soothe the digestive tract distress caused by the deficiency.
The following are some examples of some of the nutrient depletion caused by drugs:
Antiarrhythmic agents: Digoxin depletes calcium, magnesium, phosphorus, and B1. Phenytoin, which is used for ventricular arrhythmia, as well as grand mal, simple partial and complex partial seizures, depletes the body of biotin, calcium, folic acid, thiamin, B12, vitamin D, and vitamin K.
Antihypertensives: Beta blockers (used for hypertension, angina, and arrhythmia) deplete coenzyme Q10. ACE inhibitors (benazepril, captopril, enalapril, fosinopril, lisinopril), collectively deplete the body of zinc. Hydrochlorothiazide and triamterene deplete the body of B6, folic acid, and calcium.
Antilipemic agents: Cholestyramine resin and colestipol deplete the body of beta-carotene, folic acid, vitamin A, B12, vitamin D, folic acid, vitamin E, vitamin K, calcium, iron, magnesium, phosphorus, and zinc. Statin drugs (atorvastatin, cerivastatin, fluvastatin, lovastatin, simvastatin) deplete the body of coenzyme Q10.
Antidiabetic agents: metformin (glucophage), acetohexamide (dymelor), glyburide (diabeta, glynase, prestab, micronase), tolazaminde (tolinase), tolbutamide (orinase), as a group deplete coenzyme Q10, with desipramine also depleting the body of B12. Since diabetes is a cardiovascular disease risk factor, the depletion of these nutrients places the individual at increased risk, because of the fact that coenzyme Q10 and B12 contribute to proper cardiovascular health.
Antibiotics: Besides destroying beneficial gut bacteria that aid digestion, protect against infection, and synthesize certain nutrients, tetracyclines (achromycin, sumycin, tetracap, panmycin), penicillins, cephalosporins, fluoroquinolones, and sulfonamides, deplete the body of B1, B2, B3, B6, B12, biotin, inositol, vitamin K, iron, and magnesium.
Antidepressants: Amoxapine (asendin), desipramine (norpramin), nortriptyline (aventyl hydrochloride), protriptyline (vivactil), amitriptyline (elavil), clomipramine (anafranil), doxepin (adapin), and imipramine (tofranil) deplete the body of coenzyme Q10 and B2.
Anti-inflammatory agents: The nonsteroidal anti-inflammatory drugs diclofenac, diflunisal, etodolac, fenoprofen, ibuprofen, ketoprofen, mefenamic acid, nabumetone, naproxen, and piroxicam all deplete the body of folic acid.
Estrogens (conjugated and esterified): Premarin, estratab, and menest, deplete the body of B6, magnesium, and zinc.
As America ages, the numbers of prescription drugs increases. Estrogen replacement therapy (ERT), common for women over 50, is another category of nutrient-depleting drugs. Vitamin C, B-6, zinc, and magnesium can be depleted, causing lowered resistance to colds and stress. Magnesium depletion also interferes with absorption of calcium. Low levels of vitamin B-6, B-12, and folic acid associated with ERT and oral contraceptives has a high correlation with elevated homocysteine levels, which result in arterial plaque build-up, cardiovascular problems, and high blood pressure. When the heart is forced to work harder to adapt to plaque-narrowed arteries, blood pressure rises.
Medication for lowering high blood pressure is also quite common. Some, such as Apresoline, reduce the levels of coenzyme Q10, a powerful antioxidant that's needed for cellular energy and repairing free-radical damage to the heart muscle. Deficiencies of coenzyme Q10 puts you at risk for heart disease. It appears someone wasn't thinking when they created this cardiovascular medicine. In addition, blood pressure medications deplete vitamin B-6, interfering with neurotransmitters that regulate mood, sleep, and appetite which frequently causes depression.
To treat depression, doctors often prescribe antidepressant drugs, many of which deplete Vitamin B-2 (riboflavin). In addition to nutrient depletion, many medications contribute to making the body too acidic, a condition in which opportunistic diseases can take hold and in which cancer cells thrive. A diet, rich in meat, dairy products, sugar, caffeine, and processed foods, already tends to make the body acidic, and some medications only compound the problem.
If you must take any medication for any length of time, do your homework. Don't depend on your doctor or health care practitioner for complete information as he or she may not have it. Informing yourself is your first line of defense in managing your health. Additionally, taking a good multi-vitamin and mineral formula will give you a good head start on avoiding or reversing nutrient depletion. After you determined what supplements you may need, such as B-12 or CoQ10, you can purchase these individually in health food stores or pharmacies.