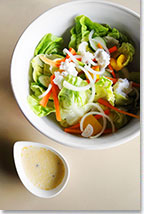 A Caesar salad is a green salad of romaine lettuce and croutons typically dressed with lemon juice, olive oil, egg, Worcestershire sauce, anchovies, garlic, Dijon mustard, Parmesan cheese, and black pepper.
The salad's creation is generally attributed to restaurateur Caesar Cardini, an Italian immigrant who operated restaurants in Mexico and the United States. Cardini was living in San Diego but he was also working in Tijuana where he avoided the restrictions of Prohibition. His daughter Rosa recounted that her father invented the salad when a Fourth of July 1924 rush depleted the kitchen's supplies.
Ingredients
8 tablespoons silken tofu

1/4

 

cup

 

lemon juice

2

 

tablespoons

 

nutritional yeast

1

 

tablespoon

 

dijon mustard

2

 

teaspoons

 

capers

1

 

clove

 

garlic
Instructions
Blender all ingredients and blend until smooth and creamy. Store in an airtight container in the fridge for about a week. It get's thicker once chilled, perfect for dipping.
Recipe Note
If a saltier taste is desired, add Bragg Liquid Aminos to taste.