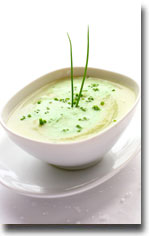 People tend to think that only green vegetables are high in  nutrients. Not so! Cauliflower is an excellent source of vitamin C, vitamin K, folate, pantothenic acid, and vitamin B6. It is a very good source of choline, dietary fiber, omega-3 fatty acids, manganese, phosphorus, and biotin. Additionally, it is a good source of vitamin B2, protein, vitamin B1, niacin, and magnesium.
Makes 4 servings, 190 calories each.
Ingredients:
2 cloves garlic, minced
1 onion, diced
1 potato, diced
1 head cauliflower, chopped
3 cups vegetable broth
2 bay leaves
Braggs Aminos and pepper to taste
dash nutmeg
green onions, chopped
chives for garnish
Preparation:
In a large soup or stock pot, sautee the onion and garlic in the vegan margarine for 3 to 5 minutes, or until onions are soft.
Add the potato and cauliflower and cook for a few more minutes, stirring frequently.
Add the vegetable broth and bay leaves and bring to a simmer. Cover and allow to cook for 25 – 30 minutes.
Remove the bay leaves, then transfer soup to a blender and puree. Season with salt, pepper and nutmeg and re-heat if needed. Top with grated vegan cheese and green onions, if desired.