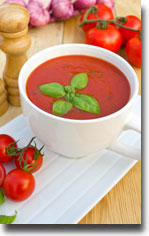 A staple in farmers markets during the warmer months, tomatoes have been cultivated in the United States since the early 1800s. Tomato soup offers one way to enjoy tomatoes' rich flavor and makes regular appearances in many Americans' diets. While some varieties of tomato soup can be high in sodium, the soup offers a range of health benefits because it provides phytonutrients, as well as essential minerals and vitamins.
Makes 4 servings, 250 calories each
Ingredients:
2 large shallots, minced
3 large cloves of garlic, minced
650 grams (23 ounces) fresh tomatoes, diced
400 grams (14 ounces) good canned tomatoes
2 tablespoons tomato paste
2″ sprig rosemary
1 teaspoon sea salt (to taste)
Directions:
Add 2 tablespoons water to a pot along with the shallots and garlic and sauté over medium-heat until the shallots just start to turn brown around the edges.
Add the fresh tomatoes, canned tomatoes, tomato paste, rosemary and salt. Cover and simmer over low heat for 20 minutes.
Remove the rosemary, and then add the soup to a heat resistant blender (or use an immersion blender) along with the remaining olive oil. Lightly puree the soup, and then pass it through a strainer to remove the seeds and skin.
Taste the soup and adjust to taste. If it's too sour, you can balance it out by adding something sweet like honey, agave, or unrefined sugar. Reheat the soup and serve with a drizzle of olive oil on top.