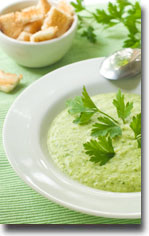 Basil, Thai basil, or sweet basil, is a common name for the culinary herb Ocimum basilicum of the family Lamiaceae, sometimes known as Saint Joseph's Wort in some English speaking countries. The unique array of active constituents called flavonoids found in basil provide protection at the cellular level. Orientin and vicenin are two water-soluble flavonoids that have been of particular interest in basil, and in studies on human white blood cells; these components of basil protect cell structures as well as chromosomes from radiation and oxygen-based damage.

Number of servings: 6, 190 calories per serving.
Ingredients
2 pounds zucchini (about 5 small to medium)
1 large Vidalia onion, chopped
4 cloves garlic, crushed
1/2 teaspoon salt
1/4 teaspoon freshly ground pepper
3 cups vegetable broth
1/3 cup fresh basil leaves, packed
6 ounces silken tofu
1 tablespoon nutritional yeast
pepper to taste
Braggs Aminos to taste
Instructions
Set aside one of the zucchini; trim and coarsely chop the rest.
Cook onion in a large saucepan for about 5 minutes, until softened. Add the garlic and cook for another minute. Stir in the chopped zucchini, salt, and pepper and cook over medium heat, stirring occasionally, for 5 minutes. Add the broth and simmer until zucchini is tender, about 15 minutes.
Pour into a blender (in 2 batches, if necessary) taking care to avoid burns by not filling the blender more than halfway. Add the basil, tofu, and nutritional yeast and blend until smooth.
Return soup to the pot, season with salt and pepper to taste, and keep warm. Shred the remaining zucchini with a spiral slicer, mandolin, or grater. Pour soup into bowls and sprinkle grated zucchini over top.