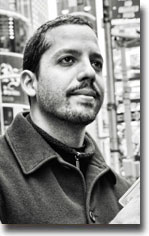 On September 5, 2003, magician David Blaine underwent a 44-day public water-only fast as a magic stunt.  Blaine was encased in a clear 3 foot by 3 foot by 7 foot Plexiglas box and suspended 30 feet in the air on the south bank of the River Thames in London.
The case had an internal web cam so that the event could be closely observed.  During the event, Blaine drank approximately 4 liters of water per day and claimed to have lost 54 pounds.  The stunt had the flavor of performance art gone awry, when spectators taunted Blaine with food, pelted him with eggs, shot golf balls at him and tortured him with laser pens.
At one point, spectators below fried fast food beneath him as he dangled 60 feet above.  Meanwhile, two young women flashed their breasts, adding an even more freakish quality to the event.  Another man was arrested on criminal charges after disabling the water feed into Blaine's box.
According to a spokesman for Blaine, he was attempting to complete "the most extreme exercise in isolation and physical deprivation ever attempted." Instead, he succeeded in becoming the most bizarre hunger artist in modern history.  His stunt was truly a global transformational event, as demonstrated by the manner in which it transformed and polarized opinions around the world.
It turned Britain into a hostile, angry, taunting mob.  The Scotsman newspaper reported that a protester was heard shouting, "Go home David, go back to America. We don't want you." The Scotsman article itself is a scathing condemnation of Blaine and the stunt, while the Chicago Tribune said, "Brits have no respect for David's high art," Such international controversy most served to transform the public paradigm of fasting, but not necessarily in a positive way.
Photo Credit: June M Sobrito | Dreamstime.com