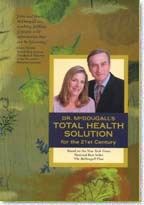 Discover a dietary program that is right from all viewpoints: it prevents illnesses, reverses diseases, causes you to lose the right amount of weight without ever being hungry, helps you avoid infectious diseases, conserves our natural resources and is kind to animals.
Plus you can reduce your food bill by as much as 40%. Dr. McDougall's Total Health Solution for the 21st Century presents information on how to plan successful meals that result in your optimal health.
This program is effective in treating and/or preventing a host of common health ailments that include allergies, arthritis, diabetes, heart attacks, hypertension, gastritis, polyps, and ulcers. John McDougall is a board-certified internist and the author of ten national best-selling books. Mary McDougall is a nurse, co-author of 9 national best-sellers, and creator of over 2500 healthy recipes.
This is one of the best set of DVD's for diet. This is by far the best foundational information for making the change to a healthier diet. Nothing is left untouched. You will learn why you should change, the immediate and long term benefits of making a change and how to make it easier than you might expect. Will you be hungry? NO! Will you feel better. Absolutely! Whether you are trying to regain your health, or prevent unnecessary disease, this will really help you on your way.
Although this video series was produced in 2003, the information in it remains accurate and useful. The presentations in this video are very similar to the information people receive at his program in Santa Rosa, California.
Director: John McDougall
Release Date: 2003
Click Here To Order This DVD at Amazon