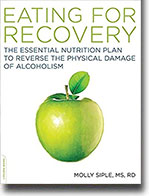 You can reverse the physical damage of alcoholism with nature's best medicine: food. Common side effects of excessive drinking include poor digestive and liver function; problems with managing blood sugar; weakened circulatory, immune, and nervous systems; and impaired thinking and changes in mood-regulating hormones.
While the primary focus of anyone recovering from alcoholism is staying sober, a critical part of recovery involves halting or reversing the physical damage of excessive alcohol consumption. Registered Dietitian Molly Siple's innovative program helps you improve your health, detoxify, and reduce the risk of degenerative diseases linked to alcohol abuse. Siple's stress-free, uncomplicated program offers:
Critical information on common physical ailments brought on by alcoholism
Lists of "recovery foods" that help combat specific ills and improve health
Manageable recovery goals and easy ways to implement them
Easy-to-make recipes for every meal, including snacks and beverages
21 days worth of menus to jump-start nutritious eating
Shopping lists, recommendations for eating out, and other resources
Eating for Recovery's guidelines, practical tips, recipes and varied meal plans make it the essential resource for anyone seeking to restore their health and vitality after alcohol abuse. As a therapist and nutritionist, I have found that alcoholism is always accompanied by nutritional imbalances. Following an excellent nutritional program makes recovery from this problem much easier and more effective. With its recipes, menus, and nutritional advice, this wonderful book is a very helpful resource for anyone recovering from this condition.
Author:Molly Siple
Year of Release: 2008