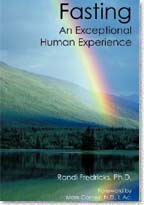 In honor of the release of my new book, Fasting: An Exceptional Human Experience, I will be posting blogs that are excerpts from the book.
As a psychotherapist, I often talk with people who have sacrificed self-care in lieu of other activities, usually work related. Many of them have either abandoned a spiritual practice or never had one. In these instances, part of my work is encouraging the development of such a practice.
It seems now—more than ever—people struggle to find meaning and significance in their lives. Buddhist teacher and psychotherapist Jack Kornfield said, "We live in disordered times, complicated, distracted, and demanding . . . Whether in prayer or meditation, in visualization, fasting, or song, we need to step out of our usual roles, out of the busy days on automatic pilot."
Just as there are different reasons for fasting, there are several definitions. Psychiatrist Len Sperry  said fasting is used "as a means of weight loss, detoxification of the body for medical purposes, or as a spiritual practice. When performed as a spiritual practice, fasting is defined as abstention from food for the purification of one's motivation. All the great spiritual traditions recognize its merits."
After engaging in a number of spiritual practices, I found water-only fasting to be the most beneficial, partially because it can reduce thoughts that are associated with melancholy and increase feelings of well-being. Fasting does this through several mechanisms.
First, fasting changes brain chemistry, producing an antidepressant effect. Additionally, fasting can relieve the symptoms of a wide variety of medical problems, thus enhancing a feeling of wellness. Furthermore, fasting initiates a change in consciousness, providing exceptional human experiences. Through these various means, fasting has the potential to alter the perception of the participant.
Frances Vaughan suggested that fasting is a useful clinical intervention in transpersonal psychotherapy. According to Vaughan, methods such as fasting, drumming, and chanting produce an altered state of consciousness that can have "powerful therapeutic effects." Brant Cortright  echoed this belief, and called fasting "an effective non-drug technique useful for inducing an altered state of multidimensional consciousness."
In psychology, fasting is a versatile clinical intervention because it can be used briefly or for longer periods in a supervised setting. Additionally, it can be used therapeutically in conjunction with other therapies. Stanislav Grof recommended fasting before engaging in LSD psychotherapy, also known as psychedelic treatment.
Fasting is often associated with the phenomenon of Exceptional Human Experiences (EHEs) because of the types of experiences it provokes. The first person to classify EHEs was Rhea White. White went on to classify EHEs into categories, many of which are associated with the experience of fasting. The phenomenon of EHEs are reported by people who are fasting in the form of tremendous bursts of meaningful insights and heightened creativity. In many instances, the faster's life view and whole worldview changes, and a new perspective is forged.
Author: Randi Fredricks
Year of Release: 2012