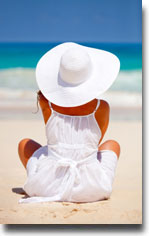 With anorexia nervosa, anorectics lose the ability to fast much in the same way that an alcoholic loses the ability to drink alcohol. It is reasonable to assume that—for the anorectic—fasting may never again be a safe practice, even after years of recovery.
However, because fasting has previously been an essential feature in most anorectics' lives, it is important that therapists who treat these patients have a thorough understanding of the fasting phenomena, much in the same way that a drug and alcohol counselor has a comprehensive understanding of alcohol and drug use and abuse.
Additionally, a therapist who is well-versed in fasting would be better equipped at explaining to the anorectic about the differences between healthy fasting versus anorexic starvation. Research is this area is gravely needed. Information needs to be gathered, such as how the anorectic grieves the loss of fasting, so that clinicians can have a deeper understanding of the anorectic's relationship with fasting.
Meanwhile, it may be useful for treatment plans for anorexia nervosa to include a mental health professional who is familiar with fasting, in the same manner as nutritionists and other professionals are used. In this manner, these therapists could be regarded as specialists in this arena.
A common myth is that anorectics fast in order to lose weight or to maintain weight loss. Although this may appear to be a logical conclusion, the motivation behind anorexic fasting is actually far more complex. Hunger has a different meaning to an anorectic. After several lengthy periods of fasting, many anorectics no longer have a normal hunger response.
While fasting rarely leads to anorexia per se, it can set into motion a set of behaviors and schemas about food and body image that can place a person at a greater risk of developing anorexia. However, anorexia nervosa is not simply a product of dieting or fasting, but is determined by a complex set of variables such as family dynamics, other psychiatric issues, genetics, and temperament and personality factors.
The association between anorexia nervosa and asceticism has been noted by numerous eating disorder experts. A dialogue has arisen regarding the association between the anorectic's religious beliefs, and the concepts of self-denial, asexuality, heightened sense of idealism, and renunciation of the body.