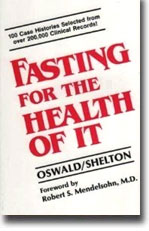 Fasting for the Health of It contains short and medium length case histories of the affects of fasting on wide variety of the population. The authors takes you through her frustrating struggle to get rid of her asthma, going from one doctor to the next. It really shows the differences between the allopathic method and the Hygienic method of treating disease.
This book should be read by everyone who has been told by the Medical Profession, "we cant do any more for you, you will just have to learn to live with your ailment."
When you're suffering from a chronic, degenerative disease, and the doctors you trust are recommending drugs or surgery, it's hard to believe that simply going without food could be of any lasting benefit. This is also compounded by ridicule in medical circles and the media, which mistake fasting for starvation and label it quackery.
If you are new to fasting and suffer from a chronic, degenerative disease, this is the book you need to read to understand how fasting can help you return to health and how proper eating can help you not only remain healthy but rejuvenate your body, increase your energy and improve your mental functioning.
Authors: Herbert M. Shelton, Jean A. Oswald
Year of Release: 1989