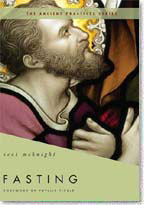 Although this is a Christian-based book on fasting, anyone interested in the spiritual aspects of fasting will probably find this book interesting.
Christianity has traditionally been at odds with the human body. At times in the history of the church, Christians have viewed the body and physical desires as the enemy. McKnight reconnects the spiritual and the physical in the ancient discipline of fasting.
Inside this book you'll find:
    In-depth biblical precedents for the practice of fasting;
    How to fast effectively—and safely;
    Different methods of fasting as practiced in the Bible;
    Straight talk on pitfalls, such as cheating and motivation.
Join McKnight as he explores the idea of "whole-body spirituality," in which fasting plays a central role. This ancient practice, he says, doesn't make sense to most of us until we have grasped the importance of the body for our spirituality, until we can view it as a spiritual response to a sacred moment. Fasting—simple, primitive, and ancient—still demonstrates a whole person's earnest need and hunger for the presence of God, just as it has in the lives of God's people throughout history.
Author: Scot McKnight
Year of Release: 2009