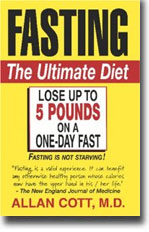 Allan Cott was quite the character when it came to voicing his opinion on fasting. This may not be the best book on fasting, but it has some humorous aspects.
In a 1976 Cosmopolitan article entitled Fasting: The Ultimate Diet, physician Alan Cott told readers—a predominantly female audience—how to lose weight using water-only fasting. Cott advocated fasting with friends and said, "Join in friendly competition to see who is doing better on the scales" and, "Stand in front of long mirrors, gazing in wonder."
In the same article, he recommended water-only fasting for weight loss and suggested that exercise could accelerate the process. In addition to taking daily 3-hour walks, Cott advised that golf, bowling, or bicycling would be beneficial during the first few days of the fast.
Most experts on fasting would probably find this book appalling, but it may also be interesting for those who are looking for some amusing information on fasting, One note of caution: don't take anything in this book too seriously.
Author: Alan Cott
Year of Release: 1996

Click here to order this book at Amazon.