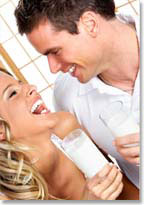 Any time a diet regimen requires consuming only a few types of foods, it runs the risk of becoming a fad diet. The term "fad diet" refers to idiosyncratic diets that promote short-term weight loss and often are suggested as a means of detoxification and improving health.
Some fad diets use the word "fast" because the participant stops eating all foods except for what is specified in the diet plan, or because the diet incorporates periods of fasting. As explained previously, this is a modified diet—not a fast—in that food is being consumed. These types of fad diet plans can pose a serious health risk for some individuals.
For example, whey fasting usually consists of drinking only whey, a protein derived that is from milk. Although whey is rich in protein, vitamins, and minerals, the lactose stimulates digestion and can have a laxative effect.
Furthermore, too much protein and not enough fiber can lead to digestive issues such as constipation. Whey protein isolates are highly acid-forming and can cause low-grade metabolic acidosis, a buildup of acid in bodily fluids that can lead to kidney stones. Similar problems and nutritional imbalances can be encountered using prepared medical foods.
Programs that involve the consumption of prepared medical or functional powdered foods lack the whole foods needed for a healthful diet. Like juice fasting and the master cleanse, these approaches are not the equivalent of water-only fasting because they involve the intake of substances other than water.