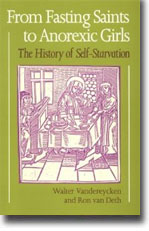 From Fasting Saints to Anorexic Girls: The History of Self-Starvation is an intense history of eating disorders, patterns of the illness, and examples of how society has viewed food denial in different ways.
The book covers the saints who abstained from food, Victorian hysterics, and tragic cases like the Welsh Fasting Girl. Men are covered as well as women, and it is very well written, thoughtful and worth a read.
Down the centuries, self-starvation has taken many morbid guises – in the extremes of religious fasting and the abstinence of saints, in hunger strikes, in the exhibition of living skeletons and hunger artists, and in the fate of melancholics, hysterics, the possessed and bewitched.
This history culminates in the 19th century with the labeling of anorexia nervosa, a condition which attracts many theories and explanations and vast literature, in the course of which a medical curiosity has been transformed into a fashionable disease. This account is of both clinical and historical importance and should interest anyone concerned with the interactions of culture and the individual.
Authors: W. Vandereycken, Ron Van Deth
Year of Release: 2001