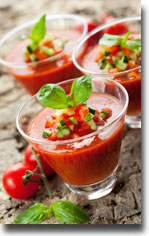 Gazpacho is a soup made of raw vegetables and served cold, usually with a tomato base, originating in the southern Spanish region of Andalusia. Gazpacho is widely eaten in Spain and neighboring Portugal, particularly during the hot summers, as it is refreshing and cool. Gazpacho has ancient roots. There are a number of theories of its origin, including as an Arab soup of bread, olive oil, water and garlic that arrived in Spain and Portugal with the Moors, or via the Romans with the addition of vinegar.
Makes 4 servings, 190 calories each
Ingredients:
3 cups tomato or vegetable juice
1 onion, diced
3 tomatoes, chopped
1 bell pepper, any color, diced
2 cloves garlic, minced
1 cucumber, diced
2 tbsp lemon juice
2 tbsp red wine vinegar
1 tsp tarragon
1 tsp chopped fresh basil
1/4 tsp cumin
2 tbsp olive oil
Directions:
Mix together all ingredients well.
Place half of the mixture in a blender or food processor and process until smooth.
Recombine.
Chill thoroughly before serving.