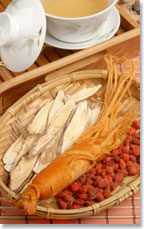 Research supports ginseng's effectiveness at improving the ability to withstand stress, improve work performance and quality, and enhance mental function. It has also been shown to increase the release of adrenocorticotropic hormone, which stimulates an increase in adrenal hormone secretion.
Ginseng (Panax ginseng) can prevent the nicotine-induced release of the neurotransmitter dopamine. Dopamine is what makes people feel good after smoking and is part of the addiction process. A Korean study suggested that ginseng may reduce nicotine-induced enhancement of dopaminergic transmission, and be a useful therapeutic agent for smoking cessation.
Because Asian ginseng (Panax ginseng) is an adaptogen, it increases the body's resistance to stresses such as trauma. Studies have demonstrated that Asian ginseng can enhance feelings of well-being in elderly people with age-associated memory impairment, nurses working night shifts,169 and people with diabetes. In a study at the Universidad Nacional Autónoma in Mexico, over 300 men and women took a daily combination of a multivitamin-mineral supplement with ginseng extract for 12 weeks. Those taking ginseng had greater improvements in quality of life compared with a group taking only a multivitamin-mineral. A similar study was done using the same multivitamin-mineral and ginseng combination with a group of healthcare workers. Compared with a placebo group, the group receiving the ginseng had significantly improved mental performance and mood.
For millennia, ginseng (Panax ginseng) has been used to treat a wide variety of medical conditions, including age-related memory impairment. It is commonly use in China for the treatment of Alzheimer's Disease (AD). A 2006 study at the Mayo Clinic College of Medicine found that ginseng had a protective quality against AD due to its anti-oxidant properties. The researchers determined that ginseng reduced and prevented the accumulation of the AD's amyloid beta peptide.
Other Types of Ginseng
Ashwagandha. Ashwagandha (Withania somnifera), also known as Indian ginseng or winter cherry, has been an important herb in the Ayurvedic and indigenous medical systems for over 3,000 years. Historically, the plant has been used as an aphrodisiac, liver tonic, anti-inflammatory agent, and more recently to treat asthma, ulcers, insomnia, and senile dementia.
A review of studies on ashwagandha concluded that the herb possesses antistress, antioxidant, and rejuvenating properties. Ashwagandha is used therapeutically as an adaptogen for patients with nervous exhaustion, debility due to stress, and as an immune stimulant in patients with low white blood cell counts.
Eleuthero. Eleuthero (Eleutherococcus senticosus), also known as Siberian ginseng, is one of nature's most powerful anti-stress remedies. Researchers have reported that eleuthero root can cause improved cerebral cortical functions. An Italian study at the University of Bologna examined the benefits of eleuthero with 20 healthy elderly people. At the end of four weeks, those who had taken eleuthero had reduced stress which showed as higher in quality-of-life measures, and improved mental health and social functioning. Eleuthero enhances and supports the immune response and may be useful as a preventive measure during cold and flu season.